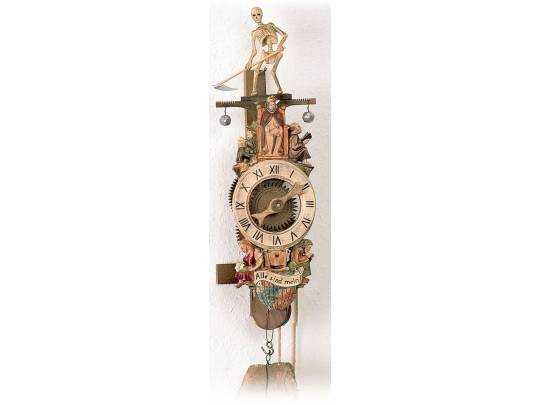 A Cuckoo clock featuring the Grim Reaper
£1,299.00
Product no. ASM
This is the only clock on the site that does not have a Cuckoo. It is a medieval depiction of the Grim reaper on an 18 inch wall clock. Driven by a 6lb (rock) weight the Skeleton rocks from side to side. This will not be for most of us, but if you would like a wall clock that truly stands out this fits the specification.
The average person of the 17th Century measured time at three intervals: sunrise, high noon, and sunset. On the upper left side of the clock there is a rich man with his bags of money wearing a fine suit. Just above the 12 is the carving of a king, and to his right there is a carved figure of a monk. Underneath the dial are representations of the young and the old, and at the bottom you can see the world. The clock bears the inscription, Alle sind mein, or "All Are Mine." The theme suggests that whether you are rich, royalty, a man of the church, young or old, all around the world, death will eventually come to collect you. At the top of the foliott balance, the grim reaper swings to collect his deathly harvest. The clock tells a chilling story of the medieval mindset. The hand painted and hand carved figures of the rich, the pious, the young, the old, and royalty cannot hide. Death stands above them all swinging his scythe. The mechanism is made of wood and is powered by a roughly hewn rock from the Black Forest. This clock is a great moving decorative piece, but should not be relied on for accurate timekeeping as it is built as it was 400 years ago. Please note that slight variations from photographs are normal as each clock we sell is hand crafted.
Important note - there is no cuckoo call and this is a 12 hour time-piece.

Features
Kids/Novelty
45cm / 18″ tall
1 day mechanical
Cuckoo only
Manual
Free Shipping
TO MAINLAND UK