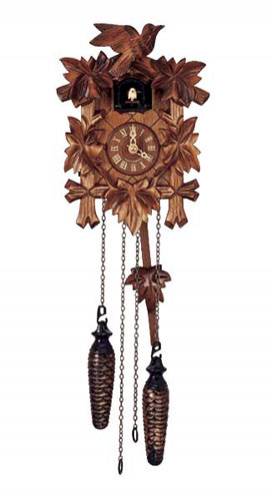 Hand carved Bird and leaves
£75.00 £89.00
Product no. Q609
Estimated delivery between Thursday 25 October and Friday 26 October 2018
Quartz clock, traditional style with hand carved fascia. Bird and twin leaved headpiece. Antique finished cabinet. The Cuckoo moves from side to side as the clock tics and calls on the hour.
Please note: this clock does not come with dummy weights.
Automatic night sensor silences clock when dark.
This clock has been discontinued. As at 18/10/18 there were 2 left on stock. Please check with sales prior to ordering.

Features
Traditional
23cm / 9″ tall
Quartz
Cuckoo only
Automatic
Free Shipping
TO MAINLAND UK