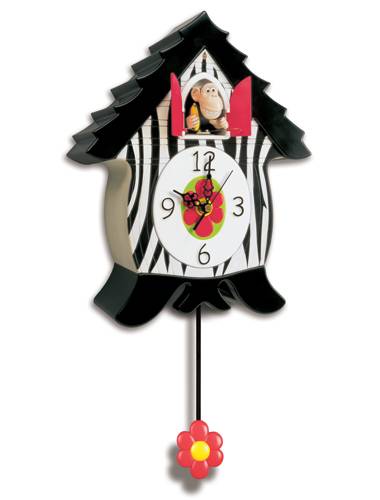 OranguCoo Kids Cuckoo Clock
£69.99
Product no. orangucoo
Estimated delivery between Tuesday 01 May and Wednesday 02 May 2018
Recently featured on UK Televion's 60 Minute Makeover. On the hour the monkey pops out of the doors and sounds. The OranguCoo monkey clock comes in a zebra striped housing with a swinging red pendulum.
It is possible to repeat the sound by pressing a button on the side. The clock is fitted with a night time sensor so that the character remains quiet when the room go's dark. The clock will require 3 D and 1 AA batteries (not included).
Dimensions are 12" x 9" x 4".
As at the 10th April 2018 there are only two remaining.
Features
Kids/Novelty
30cm / 12″ tall
Quartz
Cuckoo only
Automatic
Free Shipping
TO MAINLAND UK