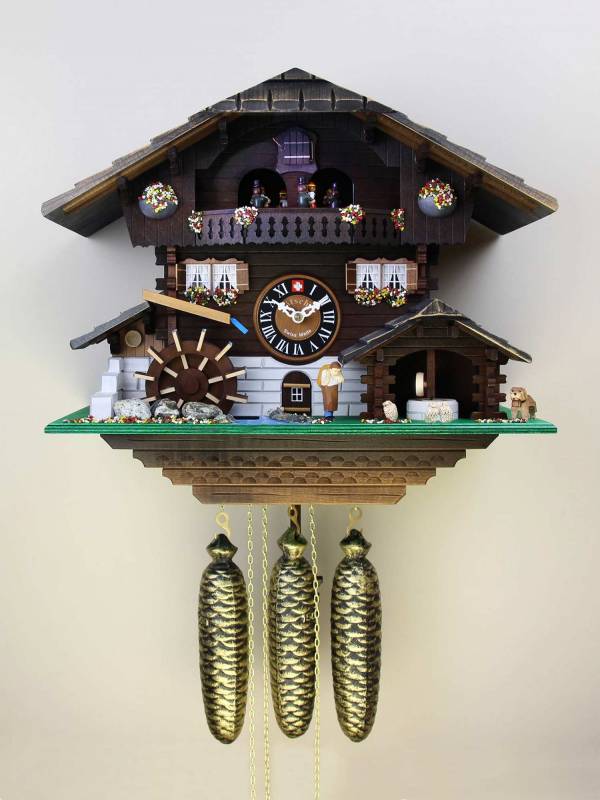 The Millers Cuckoo clock
£1,015.00
Product no. 9958M
Apart from slightly longer lead times, all our manufacturers are now back in production and clocks are being despatched as usual.
The scene depicted in this distinctive model is that of a miller hunched over, hauling a heavy bag of flour on his back. His apron is stained brown, bearing the accumulation of years of working with this precious grain. Off to the right side of the scene, under the shelter of a small hut, you'll find the milling stone, which rotates when the music plays. Next to the milling stone stands a devoted St. Bernard. The exquisitely detailed waterwheel to the left is surrounded by an array of other finely crafted elements, including flowing water, a decorative plate and a stone wall.
Finally, and as with all the Loetscher Cuckoo clocks, the boulders and colourful flowers sprinkled throughout the scene are handcrafted from sand collected at the shore of Lake Brienz.
Moving Elements : Dancing couples that twirl across the balcony as music plays.
Figurines and Ornaments : The figurines are hand-carved and hand-painted.
A manual switch that allows you to turn off the music and cuckoo sounds without interrupting the clock movement.
Music : Every half hour
8 day mechanical mechanism.
Size : 36 x 41 cm (14 x 16 in)
Please note: All Loetscher clocks come with a 3 year warranty and free delivery - world wide. Please check with sales for full details.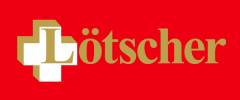 Features
Traditional
38cm / 15″ tall
8 day mechanical
Music & actions
Manual
Free Shipping
TO MAINLAND UK