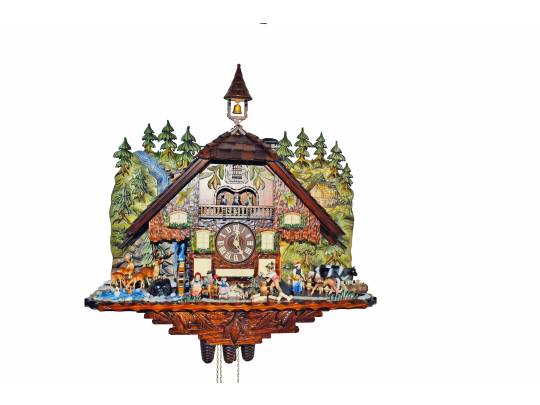 Cuckoo Clock of the year 2019
£1,699.00
Product no. 8TMT10209
Amongst the Black Forest Cuckoo clock manufacturers there is always intense competition to win the annual clock of the year. This year it has been awarded to Anton Schneider for this - dare I say - Chalet Style House that is located in a Forest setting, surrounded by beautiful, colourful, forest scenes - a plenty! Not to mention the carvings.
Amongst the highly carved and decorated clock you have children, old folk, a plethora of animals, a water wheel a depiction of a running river and all against a colouful background of forest life.The Bell Tower on the roof strikes as the music plays and the Cuckoo calls and the platform of dancers rotate to the twin melody.
A truly magnificent piece and worthy of the title for clock of the year 2019.
8 day rack-strike movement with a cuckoo call on the half and full hour.
Automatic night off.
H × W × D: 66×64×27cm (26×25.2×10.6")
This clock has been discontinued (January2022) there is limited stock so please check with sales prior to ordering.

Features
Traditional
60cm / 23″ tall
8 day mechanical
Music & actions
Automatic
Free Shipping
TO MAINLAND UK